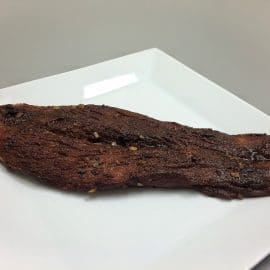 Country Style Pork Tenderloins
Our new recipe of the month features our country style seasoning (2B5A019).
The country style seasoning, with its sweet taste and its hint of tomato, can be used as a marinade. You simply have to re-hydrate the seasoning by mixing it with a little oil and vinegar. However, today, we suggest that you use our country style seasoning as a rub, by simply adding it as a dry seasoning on a piece of meat.
Rubs (in French, marinades sèches (dry seasonings)) are prepared by using a seasoning that is rubbed on raw food before it is cooked. Rubs are easy to prepare. They give flavour to your products and help you differentiate you from your competitors.
It is important to evenly rub the seasoning around the meat by massaging the meat with your hands. The rub will form a coat around the meat.
The country style seasoning is excellent on any meat but is at its best on beef or pork.
Please click here to print the recipe of the month.
If you have any questions or require more information, please contact our technician:
Marc Campagna
514 260-5804
[email protected]