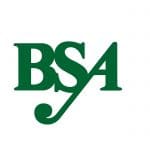 Winds of change are blowing over the SMB division
August brings many changes to the SMB division in regards to our staff.

First of all, on August 7th, Patrick Leduc, a long-term collaborator in our team, will be leaving the BSA family. He has decided to face new challenges in his career. This autumn, he will be teaching at the Institut des technologies agroalimentaire, in Saint-Hyacinthe. Patrick joined the SMB division in December 1999, when we were still at our beginnings. He held the positions of Technical Representative and Technical/Commercial Rrepresentative, before being promoted to Assistant Director. We wish him the best in his future ventures.

Furthermore, at the end of August, Richard Lambert, Technical Representative for the Estrie region, will retire. Richard has been offering quality service to his clients for more than 10 years. Nicknamed Richard "Rivers and Forests", an experimented hunter and fisherman like him will not have a boring retirement – we are sure of it! We wish him a happy retirement.

Finally, to follow the leaving of two of our long-term collaborators, we will be welcoming two new members in our team.

Alexis Langlois will join our team as an Operations Manager. With his vast experience in management, he will bring a new perspective to our operations.

Bertrand Houle will replace Richard as Technical Representative for the Estrie region. Bertrand has more than 20 years of experience in managing a meat department. He has the knowledge and tools required to understand his clients' problems and offer them the best suited solutions.

The SMB team warmly welcomes Alexis and Bertrand.

Our goal remains the complete satisfaction of our clientele. We provide practical solutions to your technical problems so you may continue to move forward and always offer creative products and innovative flavours to your customers.